Best Backyard Camping Trip Ideas
Jun 02, 2023 by SANFOU
As the hot summer come, it might influence the thought of people on travel. Create your own campsite is the Brilliant and creative solution. For the characteristic of safety and convenient, backyard camping trip is a completely new travel that different with the traditional camping in the family activities, it essentially an outdoor camping trip near by the home. Adults don't wanna waste this summer time with child, better to open the back door to sent up a tent , explore outside world , this activity can enhance the relationship with family, you can also invite your friends to join it, so come and start your first backyard camping trip. Here are some backyard camping ideas for a precious family experience. You can even use these ideas for a backyard camping birthday party. Now lets' move on!
Benefits
Light carry and comfortable- You don't need to carry anything for your backyard camping, most gear available in the house.There always some special situation like backup electronic device easily to forgot in your outdoor experience, short distance solve the missed necessities worries when you sudden forgot to carry. With a litter bit of supplies gathered from home, Light trip can help you save more energy and better enjoy backyard camping with your families. You will sleep well in the night with comfortable pillows and cushions, change your circumstance may cause your sleeping quality.
Safety- When you go for the real outdoor travel, you may face some potential danger like fierce beast, food poisoning and extremely bad weather, and in the remote area, you can hard to get the medical care or emergency services, that will cause the danger to you and your families life. But if you choose the backyard camping trip, kids can freedom move in the backyard, without those potential danger I had mention. Backyard camping allows your loved ones to stay in a safe environment. Great chance to teach children basic survival skills. Without understanding these skills, children may become dependent on technology and other elements that do not exist in nature, and they will be able to use the resources and skills they learn while camping to get themselves back to safety.
Fresh and Funny- Here's nothing interrupting you or competing for your attention. The backyard allows you to design a lot of interesting activities. Differ from traditional camping, this kind of camping provide more feasible conditions due to home versatile supplies. Organize some activities make your backyard camping trip more lively and enjoyable. It can help you stress reduction , leave you space with peace of mind, immerse yourself in this special program , you will absorb more energy from it.
Rich your camping experience- When you're camping, you get a chance to get in touch with nature, see the stars away from the bright lights of the big city. There's nothing better than like immerse yourself into the fresh air. When you plan and finish backyard camping, you possess a extremely memorable camping experience, even thought you may still face some emergency in the next time , you will calm down to deal with it base on your first skill.
Free- You don't need spend extra supplies, for many necessities available at home. If you are going to outdoor camping, you may need to buy some items in advance or extra supplies that you missed to carry from home. But you will find many sources are too expensive to buy in your campsite, many sellers like price gouging in that time due to the high demand on the remote area. So if you just in your backyard, you will reduce amount of unnecessary consumption.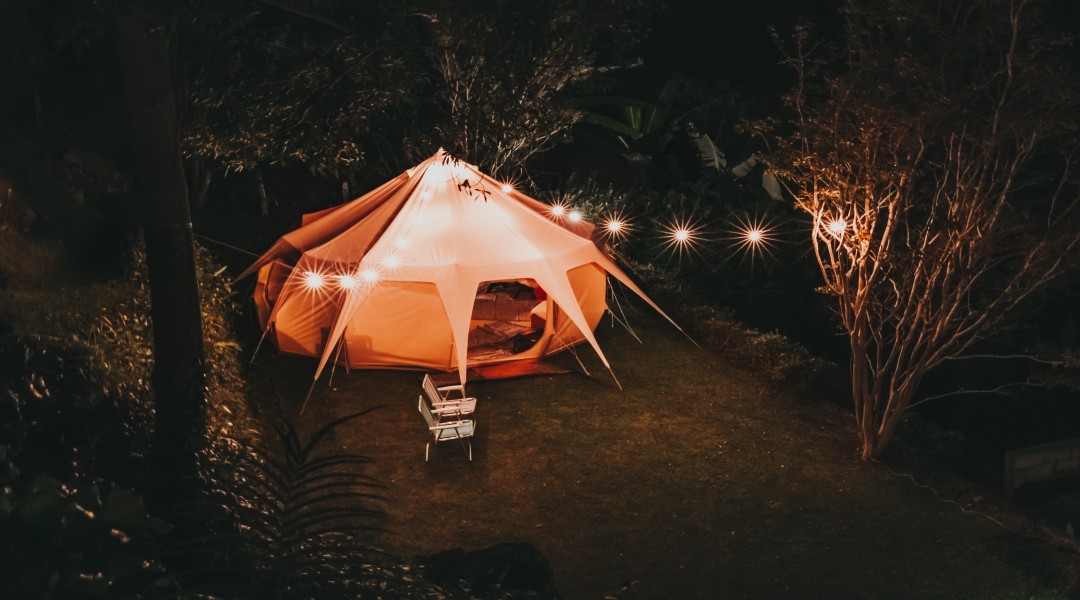 Ideas
Organize some activities- Gather the kids playing in the backyard. You can plan some retro games like eagle catches the chicken, the tortoise and the hare race, turning chair or roll the dice. You can even hide different items in the "campground" and get kids to find them. There are also games for adults and children to play together, blindfolded to find player, in the regulate area, people who was blindfolded need to catch all the remain player. You'd better play more games, it will be flexible.
Barbecue- Fire is nice choice, to create a camping atmosphere , Eating is the essential part in the backyard camping. Families usually choose cook by themselves rather than order takeout. Cook by themselves can be healthier, without junk food. For better barbecue, Equipment like mini grills, solar power stations(outdoor electricity supply), and Bluetooth (music) needed. You can pop into the house for utensils. Besides, you also can choose cook meal in the house, and bring you food to the backyard. To some extent ,can help you gain confidence in what you'll need to cook and when you're on a camping trip away from home.
Pitch a tent- Treat your backyard like a real campsite. Take your tent outside and find a smooth, flat surface to sleep on overnight. Everyone can get involved, whether it's rolling out the tarp first or putting the poles together. Make it cozy indoors with a yoga mat, sheets or layered sleeping bag and cozy comforter on the tent floor. Build a tent with the children at home, understand the process of building a tent, and learn more survival skills. You can also lay an air mattress in the tent to sleep more comfortably. As a tent newcomer, you will receive more tent-built knowledge from practice that in the introduction.
Outdoor movie- Set up a mini projector and play movies on the fence or house. Watch outdoor movies in a tent, go camping and watch outdoor movies with friends. As I mentioned, if you possess a solar power station, it can help you solve a lot of outdoor electricity demand, such as barbecues and projectors, so you don't need to worry about being unable to watch movies while camping in the backyard. Children need to take a good rest after experiencing the game activities for a day. Choose a humorous and warm-themed movie for your family and watch it with them. The backyard camping trip will ended with wealthy.
Gears:
Tent, Food, table , chair, projector, kitchen utensils, blanket, pillows, cushion, Bluetooth, lamp, BBQ oven, power station, insecticide, etc..