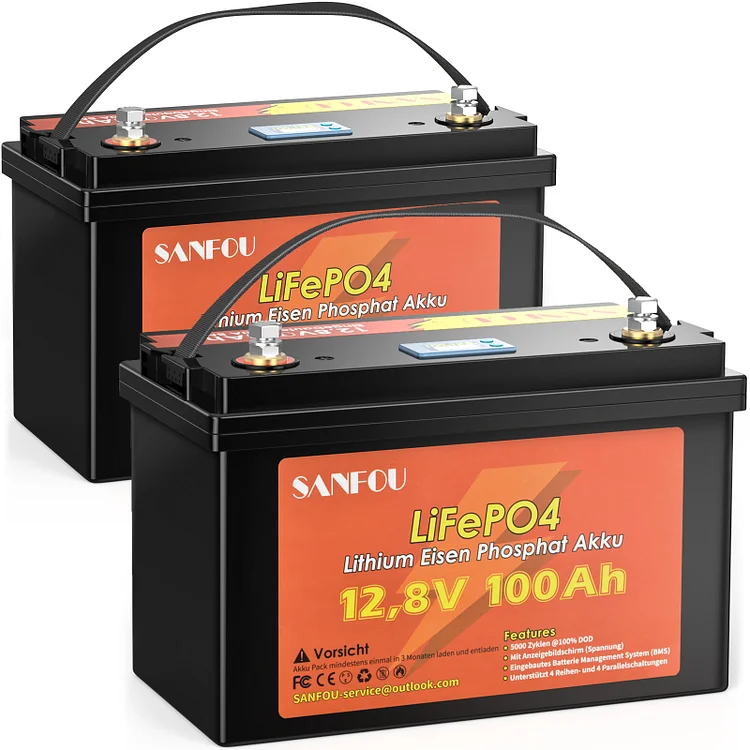 DESCRIPTION
【4X Lifespan & 2X Performance-price Ratio】SANFOU LiFePO4 battery's lifespan is 10 years, while lead-acid's is 3 years. 12.8V 100Ah lithium battery can reach 100% depth of discharge while lead-acid only reaches 50%. Based on depth of discharge and lifetime, one SANFOU 12.8V 100Ah = two 12V 100Ah lead-acid batteries, which means it costs 6 lead-acid batteries for 10 years, and the overall cost is 2X than LiFePO4 batteries.
【Battery Management System】The BMS battery management system provides overheat, short circuit, overcurrent, overcharge and overdischarge protection,which ensure the device is in a safe operating environment.
【1/3 Lighter Weight & 1/2 Smaller Size】 SANFOU 12.8V 100Ah lithium batteries weighs only 13kg, space-saving, easy to move and install, while lead-acid battery is usually 3X the weight, 36kg, chunky and big. Therefore, our LiFePO4 battery is the perfect replacement for lead-acid battery, suitable for RV, boat, home or off-grid solar system, and is more convenient and friendly for users' different usage scenarios.
【Lower Energy Costs & Highest Throughput】SANFOU lithium battery 12.8V100Ah offers 4000~15000 cycles and 1280Wh energy, which can produce 5120kWh in its 10-year lifespan. Perfect for RV, boat or solar system, camping, boat, trailer etc. Note: Recommended for 12V trolling motor up to 100lbs thrust. If you need a starter battery, please contact us for more information.
【Upgraded to 51.2V 400Ah Battery System】SANFOU 12.8V100Ah lithium battery supports 4 series and 4 parallel up to 51.2V400Ah battery system. With 2,048kWh of energy and a maximum load power of 2,048kW, it can support a complete outdoor power supply, SANFOU provides you with powerful electric support, never worry about home power outrage.
【More Eco-Friendly Safe & Less Pollution】LiFePO4 battery is the latest generation of battery technology, which has been widely used in the world, such as e-bike and e-bus. LiFePO4 battery is green in production and use, while heavy metal is lead and acidic Lead-acid battery liquid is easy to cause lead pollution, water pollution and so on. LiFePO4 batteries are highly recyclable, while lead-acid batteries are hardly recyclable.
【Intuitive Display & Formal Show 】SANFOU 12.8V100Ah lithium battery is equipped with a display that directly shows the remaining capacity and the current voltage of the battery, as well as determines the temperature of the battery. This will ensure that the battery is working properly.
【Fast Delivery & Professional Service】SANFOU has a local warehouse in Germany, which allows us to offer super-fast delivery of 2-4 business days in Germany and 3-8 business days in the EU. SANFOU also provides 5-year warranty, professional technical support and online after-sales service with quick response within 24 hours.
| | |
| --- | --- |
| Item | Parameter |
| Cell | LifePO4 Battery |
| Capacity | 1280Wh |
| Nominal Voltage | 12.8V |
| Charge Voltage | 14.6V |
| Max.Continuous Charge Current/Discharge current | 100A |
| Charge Temperature Range | 0—45℃ |
| Discharge Temperature Range | -20℃—65℃ |
| Cycle life | 4000~15000 |
| Battery Weight | 12.5Kg |
| Screw Size | M8 |
| Battery Size | L12.9*W6.7*H8.5 Inch |