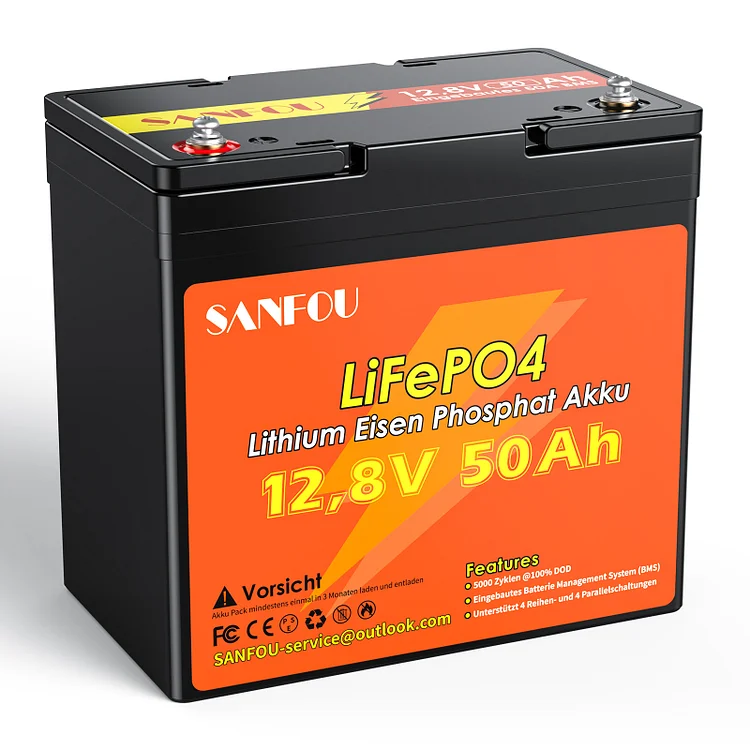 DESCRIPTION
【4X Lifespan & 2X Performance-price Ratio】SANFOU LiFePO4 battery's lifespan is 10 years, while lead-acid's is 3 years. 12.8V 50Ah lithium battery can reach 100% depth of discharge, while lead-acid only reaches 50%. Based on depth of discharge and service life, one SANFOU 12.8V 50Ah = two 12V 50 Ah lead-acid batteries, which means it costs 6 lead-acid batteries for 10 years, and the comprehensive cost is 2X than LiFePO4 batteries.


【1/3 Lighter weight & 1/2 Smaller size】 SANFOU 12.8V 50Ah lithium batteries weighs only 5.48kg, space-saving, easy to move and install, while lead-acid battery is usually 3X the weight, 18kg, clunky and large. Therefore, our LiFePO4 battery is the perfect replacement for lead-acid battery, suitable for RV, boat, home or off-grid solar systems, and is more convenient and friendly for users' various usage scenarios.


【Extended to 51.2V 200Ah battery system】SANFOU 12.8V50Ah lithium battery supports 4 series and 4 parallel up to 51.2V200Ah battery system. With 1.024kWh energy and a maximum load power of 1.024kW, it can support a complete outdoor power supply, SANFOU provides you with powerful electrical support, Never worry about a power outage at home.


【Powerful BMS & 2hr fast charge】Our 12.8V 50Ah LiFePO4 lithium battery has a 50A BMS that protects the 12.8V 50Ah from the most common causes of battery failure such as overcharge, over-discharge, over-current, overheating and short circuit. The BMS also supports 0.5 C (14.6V25 A) chargers, which only need 2 hours to fully charge the LiFePO4 battery. In comparison, lead-acid models require 10~11 hours to fully charge and only support 1~10 A chargers


【Fast delivery and professional service】SANFOU has a local warehouse in Germany, which enables us to offer super-fast delivery of 2-4 working days in Germany and 3-8 working days in the EU. SANFOU also offers a 5-year warranty, professional technical support and online customer service with fast response within 24 hours.
| | |
| --- | --- |
| Item | Parameter |
| Cell | LifePO4 Battery |
| Capacity | 640Wh |
| Nominal Voltage | 12.8V |
| Charge Voltage | 14.6V |
| Charge Temperature Range | 0—45℃ |
| Discharge Temperature Range | -20℃—65℃ |
| Cycle life | 4000~15000 |
| Battery Weight | 5.48Kg |
| Screw Size | M6 |
| Battery Size | L23 * W14,5 * H20 cm |
100% Protection
Built IN 50A BMS, Grade A cells to better ensure quality and protect using safety
MORE POWERFUL
4S4P can reach higher capacity, perfect ideal for home electricity system
SLA VS LIFEPO4
LifePO4 Battery with cost-effectiveness, lightweight and longer lifespan features
WIDE APPLICATION
Support you use on any scene
TAKE IT FOR YOUR INDOOR OR OUTDOOR LIFE