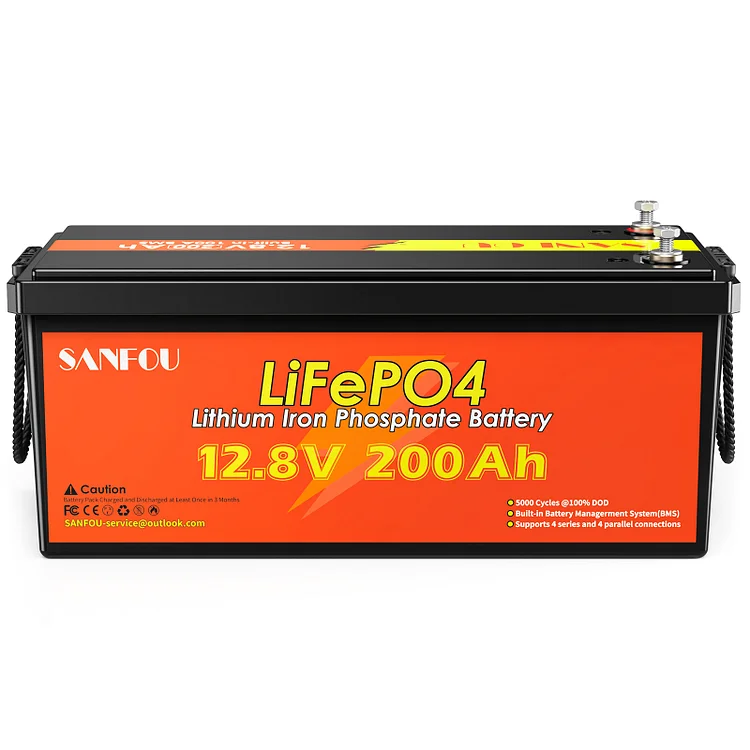 DESCRIPTION
【10 Year Lifespan & Twice Cost Effective】SANFOU LiFePO4 battery completely maintenance-free practical with Deep Cycle LiFePO4 technology can 100% DOD, recycle up to 5000~15000 times and provide up to 10 years lifespan, 2560Wh max. Energy. while lead-acid batteries only have 200-500 cycles and a 3-year lifespan. SANFOU 12V 200Ah LiFePO4 battery life of 4 pieces 12V 100Ah lead-acid batteries and the volume is only 1/5 and the weight is only 1/2.
【Strong 100A BMS protection】 SANFOU LiFePO4 200Ah is with built-in 100A BMS, 12V battery supports a maximum of 100A continuous charge/discharge current, 1280W max. charging power and 2560Wh max. energy. Equipped with a 100A BMS of exceptional quality. Our LiFePO4 12V 200Ah better protect the battery performance and extend the service life. Before delivery, we carry out a detailed inspection and test all lithium batteries before we send the battery to you.
【Expanded to 51.2V 800Ah battery system】SANFOU 12.8V200Ah lithium battery supports 4 series and 4 parallel up to 51.2V800Ah battery system. With 40.96kWh energy and a maximum load power of 20.48kW, it can support a complete outdoor power supply, SANFOU offers you powerful electrical support, never worry about a power outage at home.
【1/3 Lighter Weight & 1/2 Smaller Size】SANFOU 12.8V200Ah lithium batteries weighs only 24kg, space saving, easy to move and install, while lead acid battery is usually 3X the weight, 60kg, chunky and big. Therefore, our LiFePO4 battery is the perfect replacement for lead-acid battery, suitable for RV, boat, home or off-grid solar system, and is more convenient and friendly for users' different usage scenarios.
【More environmentally friendly safe and less polluting】LiFePO4 battery is the latest generation of battery technology that has been widely used in the world, such as e-bike and e-bus. LiFePO4 battery is green in production and use, while heavy metal is lead and acidic Lead-acid battery liquid easily cause lead-containing pollution, water pollution and so on. LiFePO4 batteries are easily recyclable, while lead-acid batteries are hardly recyclable.
【Fast Delivery and Professional Service】SANFOU has a local warehouse in Germany, which allows us to offer super fast delivery of 2-4 working days in Germany and 3-8 working days in the EU. SANFOU also offers a 5-year warranty, professional technical support and online customer service with quick response within 24 hours.
| | |
| --- | --- |
| Item | Parameter |
| Cell | LifePO4 Battery |
| Capacity | 200Ah |
| Voltage | 12.8V |
| Energy | 2560Wh |
| Max. output power rate | 1280W |
| Max.Duration. Charging current | 100A |
| Max.Duration. Discharge current | 100A |
| Size | L52.2*W24*H21.8cm |
| Weight | 24kg |
| Cycle times | 5000-15000 |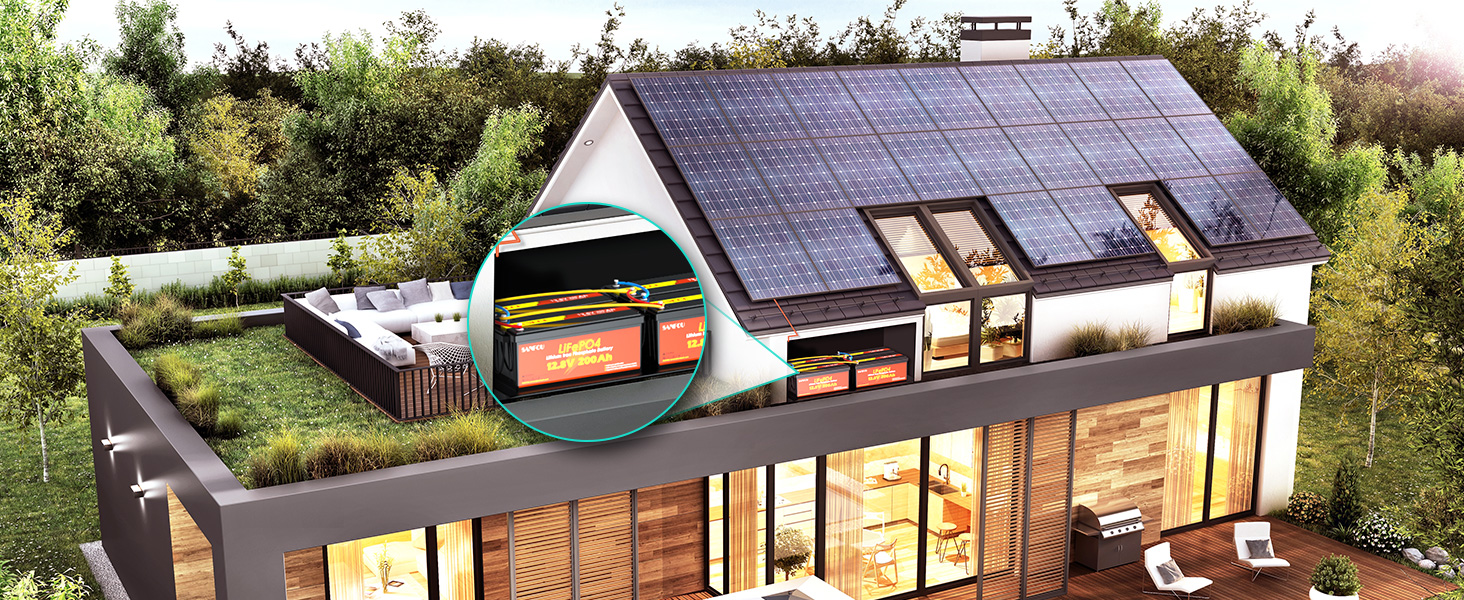 More Powerful For Home Emergency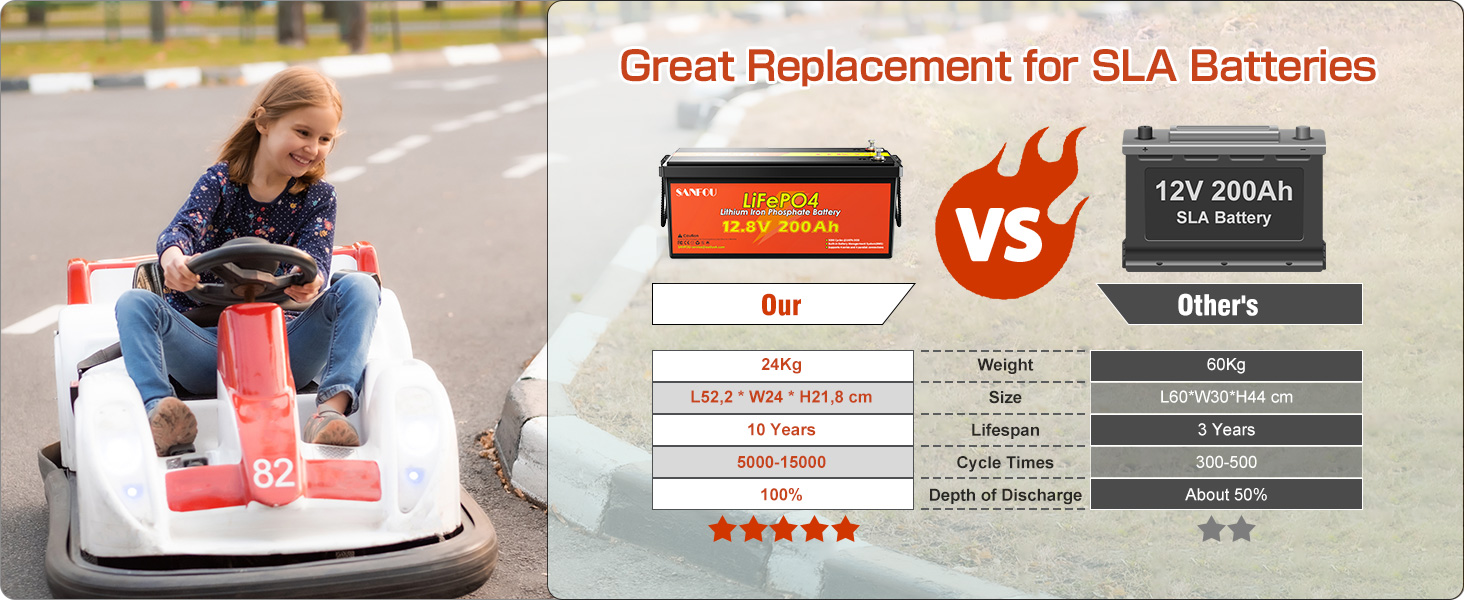 Several Advantage Compare With SLA Batteries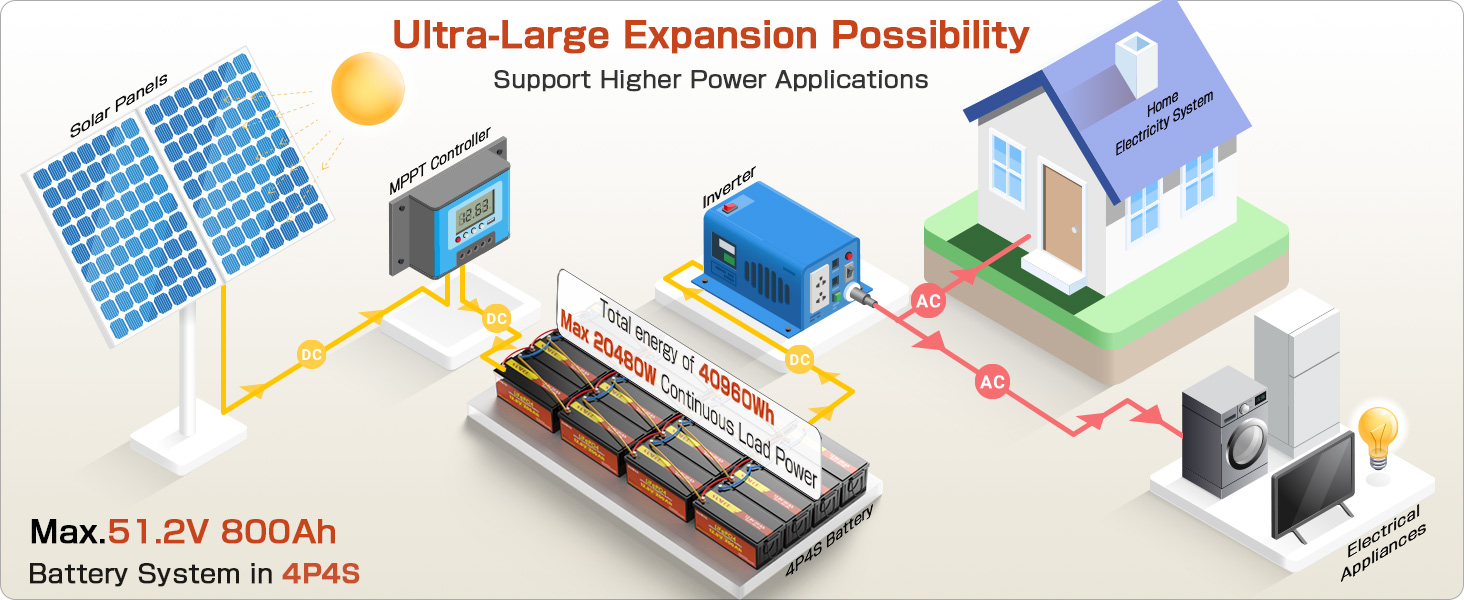 Support Up to 51.2V 800Ah, Total energy of 40960Wh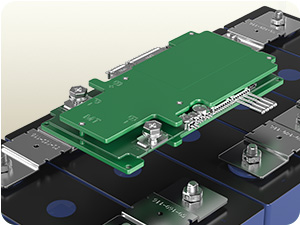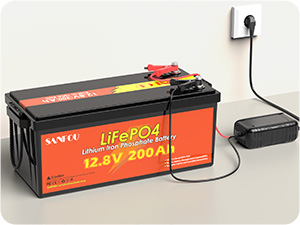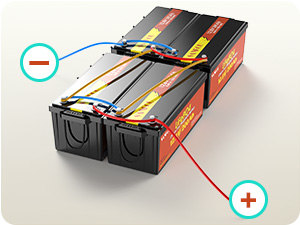 With Large Capacity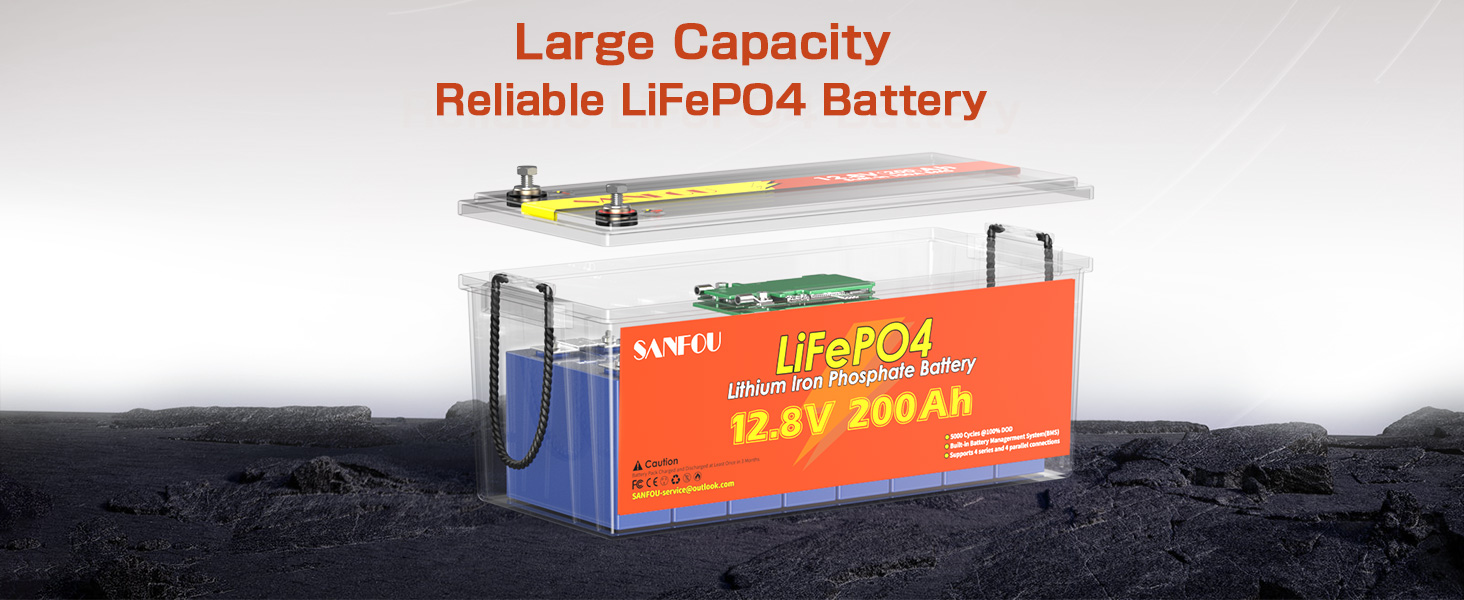 Ideal For RV, Boat, Home and Off-grid System